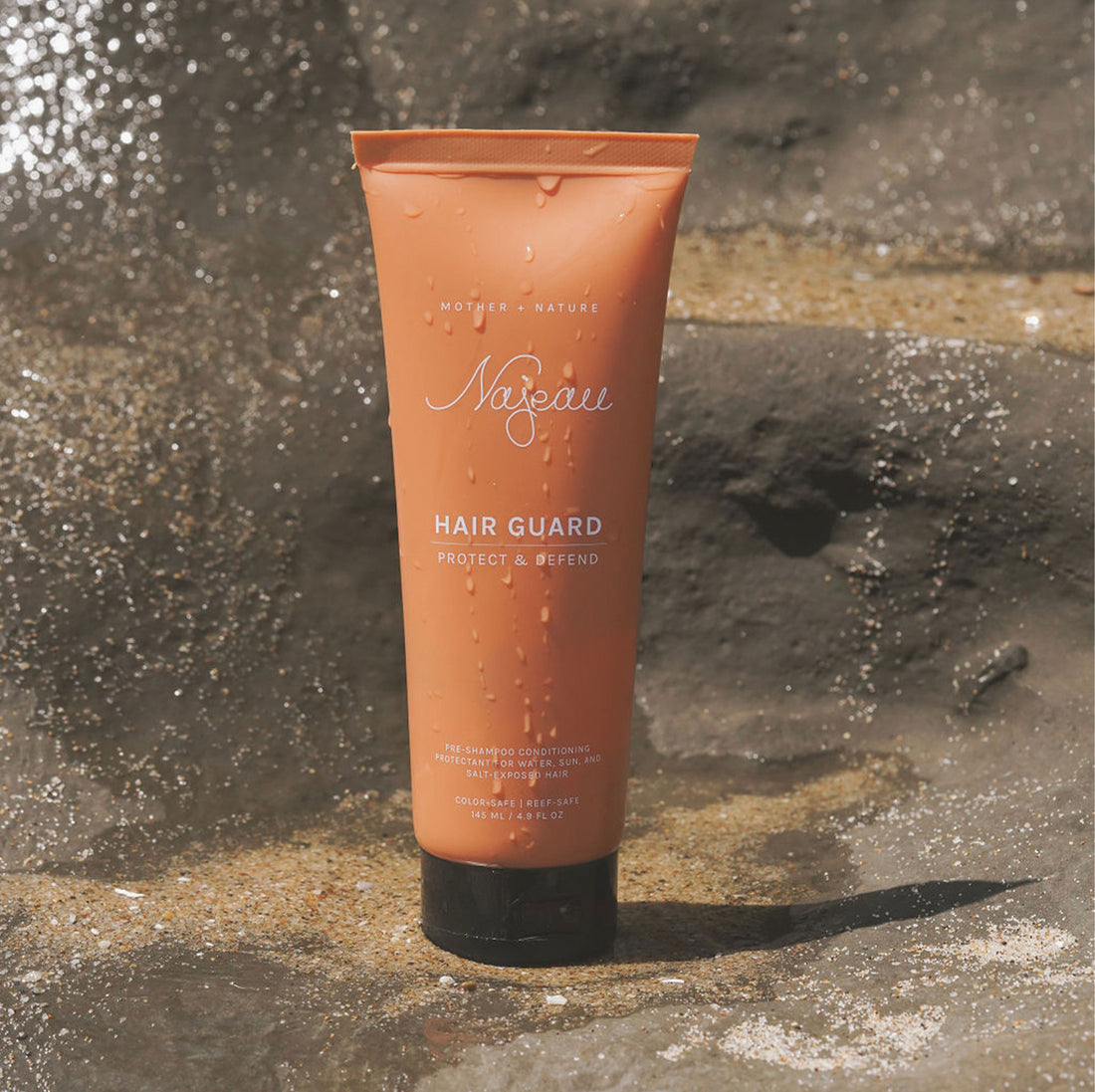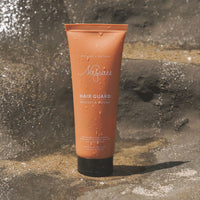 New look and now with an improved formulation, our Hair Guard has been enhanced with nourishing shea butter and our first cold pressed, extra virgin, unrefined olive oil
straight from the monastery in Lebanon.
Active days call for protection against the elements. Najeau's Hair Guard is a conditioning treatment that shields hair against the damaging effects of chlorine, sun, sauna, and salt-water exposure. Using the hydrating base of aloe vera and jojoba oil, Hair Guard will coat the hair strands while moisturizing the hair cuticle.

Apply this pre-shampoo treatment to your hair before sun, heat and/or water exposure by coating your strands root to tips. Best to apply to wet or damp hair and reapply as needed.

Shampoo, condition and style as usual

Always use dry clean hands when removing product from its container.
Our products are customizable to meet you hairs needs. If you want the Hair Guard to be more coating on the hair strands, add more oil, using the Hair Mask.
Mix together your desired amount of both and you now have your own customized Hair Guard Treatment.

Remember: the hair guard is like wax for a car, it protects and coats the hair strands.
Oil repels water, so the more coating you need the more oil you can add to your pre-shampoo protectant.
Water, Aloe Barbadensis Leaf Juice, Butyrospermum Parkii (Shea) Butter, Olea Europaea (Olive) Oil (Organic, Lebanon), Moringa oleifera (Moringa) Oil, Simmondsia Chinensis (Jojoba) Seed Oil, Linum Usitatissimum (Linseed) Seed Extract, Salvia Hispanica Seed Extract,
Phenoxyethanol, Benzoic Acid, Ethylhexylglycerin, Glycereth-2 Cocoate, Acrylates/C10-30alkyl Acrylate, Crosspolymer, Citrus Aurantium Dulcis (Sweet Orange) Oil, Citrus paradisi (Grapefruit) Oil
For external use on the hair and scalp only. Avoid contact with eyes. Discontinue use if irritation occurs.

Store in a cool, dry place and seal after each use to avoid contamination or moisture.

Always use clean and dry hands when removing oil from the container.
Key Ingredients
Glycerin
As a natural humectant, this sugar alcohol compound helps draw moisture into the hair, providing deep hydration and antimicrobial properties.
Jojoba Oil
Jojoba is rich in vitamins and minerals that nourish hair, including vitamin C, B vitamins, vitamin E, copper, and zinc.
Olive Oil
High level of healthy monounsaturated fatty acids and antioxidant vitamin E to moisturize, protect, and nourish.
Giving Back
Najeau is proud to donate a percentage from every sale directly to the nuns and children of The Dispensaire Intercommunautaiure located in the outskirts of Beirut in Nabaa
learn more