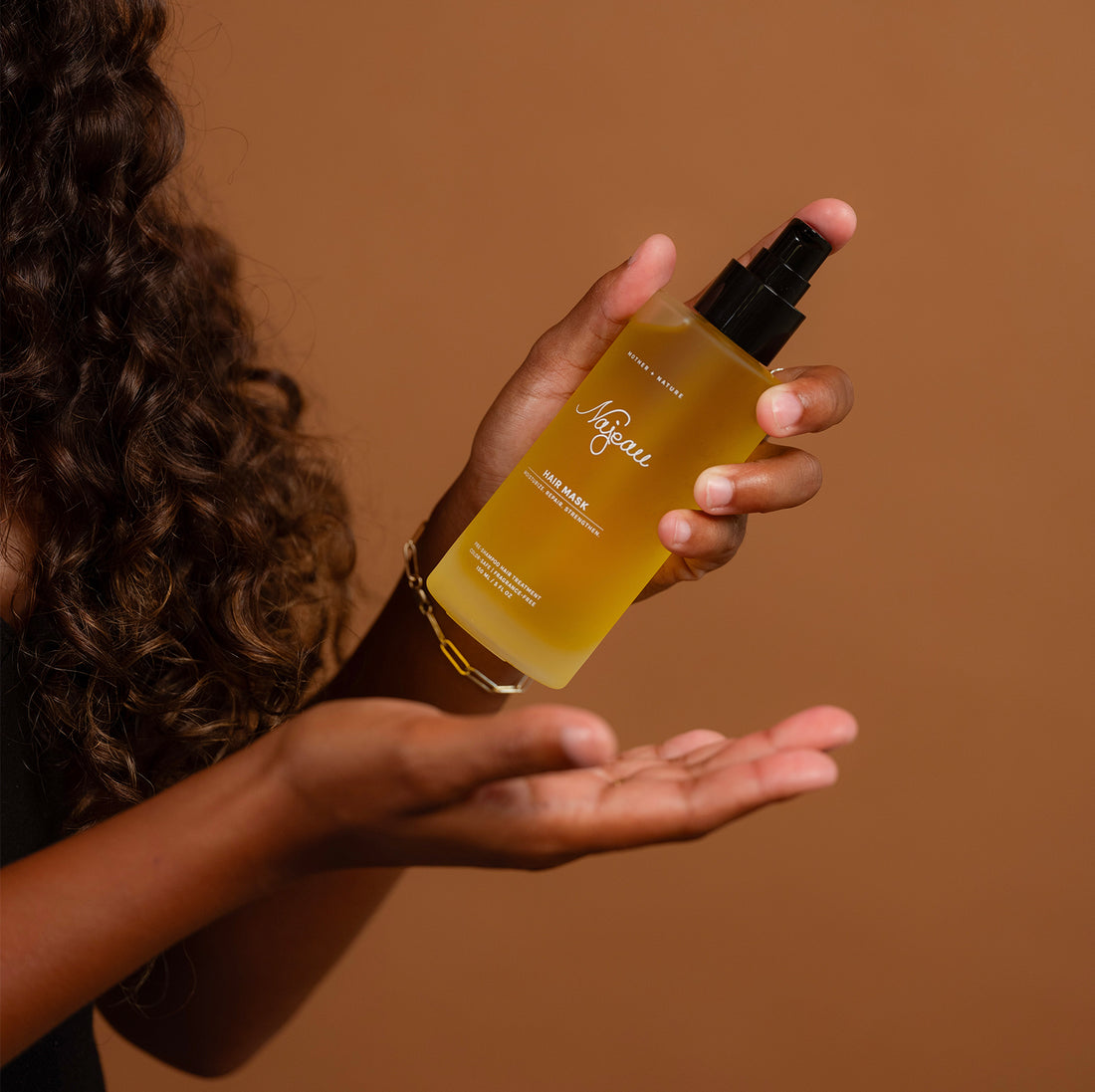 Hair Moisturizing Treatment


Put moisture back into your stands. Najeau Hair Mask is a 

pre-shampoo hair oil p
owered by a custom blend of nutrient-rich oils that will moisturize the hair strands, strengthen the cuticle structure, and reduce
breakage for
stronger and shinier hair. 



150ML/ 5 FL OZ




Gluten-free, Paraben & phthalate free, Synthetic fragrance-free, Sulfate-free, Free of synthetic dyes, No animal testing.
Shake well. Apply  hair mask oil directly to dry, detangled hair in sections until fully saturated. Cover  hair with a shower cap to activate and leave on for 30 minutes. Rinse well, shampoo, condition and style as usual.

For extra hydration, mix 3-4 tablespoons of Najeau Hair Mask oil and mix with your favorite conditioner or the Najeau Hair Guard. Generously apply to dry or damp, detangled hair. Apply as directed above for optimal results. 

For optimal results, use once a week. Always use clean, dry hands when removing oil from the container.




•After applying the Hair Mask in your desired application, cover hair with a shower cap for heat assisted product absorption.

•To thoroughly wash your mask out, lather in shampoo to your scalp and hair first before getting it wet and working it in to get the oil out quicker and more efficiently.

•Don't be afraid to transfer hair treatment mixture into a squeeze bottle if the application gets messy and you want a more controlled deposit on your hair.

Organic Olea Europaea (Olive) Oil, Glycine Soja (Soybean) Oil, Simmondsia Chinensis (Jojoba) Seed Oil, Argania Spinosa (Argan) Oil, Honey (Manuka), Lavandula Angustifolia (Lavender) Oil, Tocopherol (Vitamin E), Aloe Barbadensis Leaf Juice
Always perform a patch test before using our products. Natural & herbal products can still cause adverse reactions if you are allergic to a specific ingredient. For external use on the hair/scalp only. Avoid contact with eyes. Discontinue use right away if there is an adverse reaction.

Store in a cool, dry place and seal after each use to avoid contamination or moisture.

Always use clean and dry hands when removing oil from the container.
Key Ingredients
Argan Oil
A known moisturizer for your hair, argan oil protects your hair from everyday damage. Its natural properties aid in reducing breakage and split ends and may help prevent hair loss for thicker, fuller hair.
Aloe Vera Oil
Help minimize hair loss, locks in moisture, hydrates the strand, rich in amino acids and filled with vitamins A, C, E, B1, B2, and B6 which help in cell growth.
Manuka Honey
With properties of an emollient and humectant, Manuka Honey is a great hair moisturizer. Emollients smooth the hair strands, adding shine to dull hair. Humectants bond with water molecules, adding moisture to dry strands. enjoy the shine.
Giving Back
Najeau is proud to donate a percentage from every sale directly to the nuns and children of The Dispensaire Intercommunautaiure located in the outskirts of Beirut in Nabaa
learn more