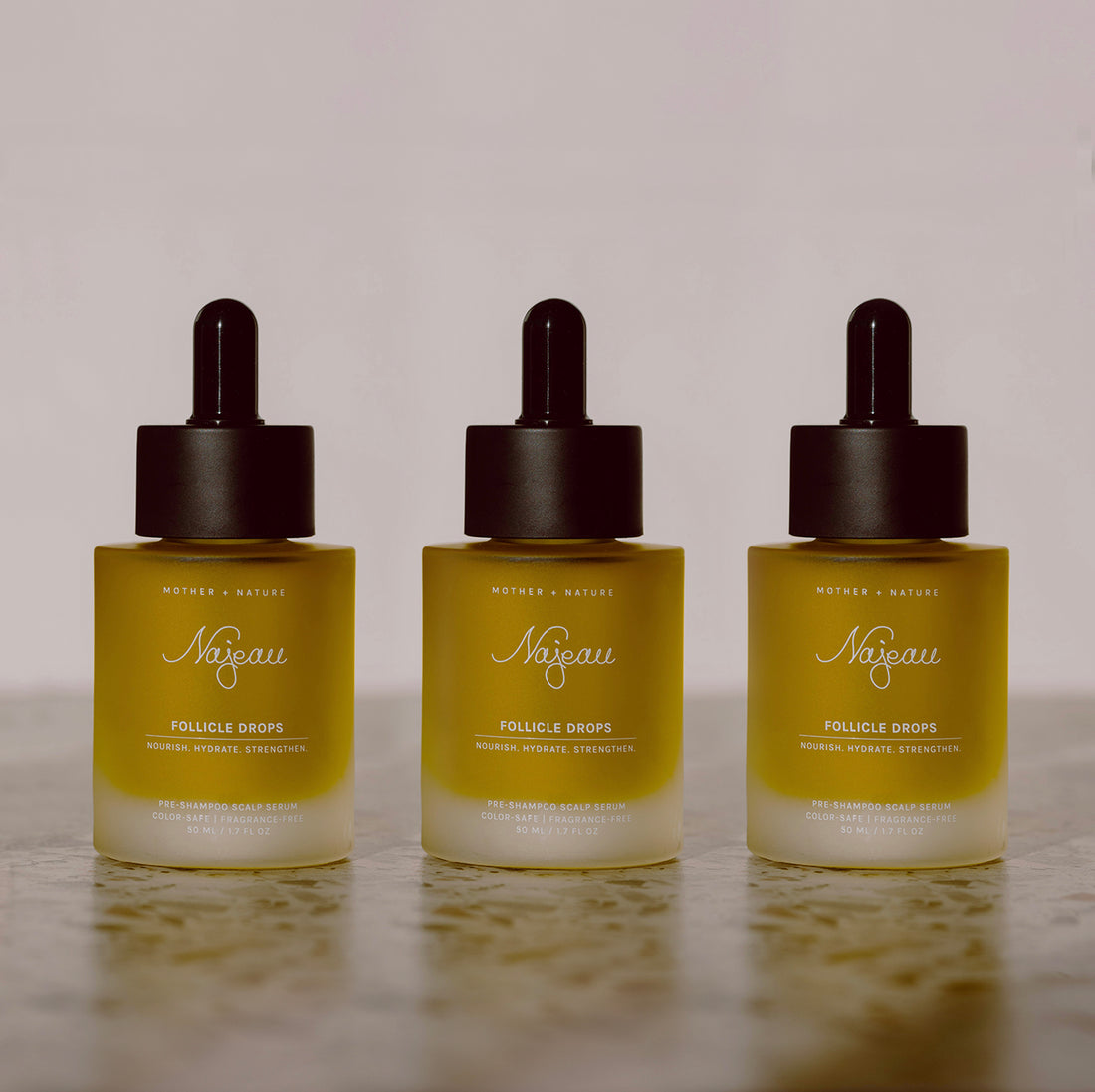 $144 Value-Bundle and save! This 3 pack of our best selling Follicle Drops encourage hair growth where it starts. Najeau's nurturing Follicle Drops are a pre-shampoo scalp oil that nourishes and hydrates the scalp, increases blood flow to the hair bulb and follicle to help stimulate hair growth, prevents breakage, and restores pH balance of the scalp and hair for glossy, hydrated locks.
Each bottle is 50ML/1.7 FL OZ
Section dry, unwashed hair. Fill dropper, and apply directly to scalp until fully saturated. Massage for 10-15 minutes. Rinse well. Shampoo, condition, and style as usual.

For optimal results, use 2-3 times per week.
•Use Follicle Drops on the scalp while using the Hair Treatment to nourish the ends of your hair.

•Use Follicle Drops overnight before you shampoo for extra absorption.

•To thoroughly wash out the oil, lather in shampoo first before getting your scalp wet and work it in to get the oil out quicker and more efficiently.
Organic Olea Europaea (Olive) Oil, Ricinus Communis (Castor) Seed Oil, Ocimum basilicum (Sweet Basil) Oil, Azhardicta Indica (Neem) Oil, Aloe Barbadensis Leaf Juice, Tocopherol (Vitamin E), Glycine Soja (Soybean) Oil, Rosmarinus Officinalis (Rosemary) Leaf Oil
Always perform a patch test before using our products. Natural & herbal products can still cause adverse reactions if you are allergic to a specific ingredient. For external use on the hair/scalp only. Avoid contact with eyes. Discontinue use right away if there is an adverse reaction.

Store in a cool, dry place and seal after each use to avoid contamination or moisture.

Always use clean and dry hands when removing oil from the container.
Giving Back
Najeau is proud to donate a percentage from every sale directly to the nuns and children of The Dispensaire Intercommunautaiure located in the outskirts of Beirut in Nabaa
learn more